Hi, I'm Katja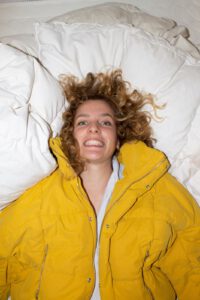 © Emma Lydssan
Hi, I'm Katja Aßfalg, born 1993 in Heidelberg, Germany. I'm currently enrolled in the final year of my photography studies at the University of Applied Science in Bielefeld. During this final year I spent one semester abroad at the Bezalel Academy of Arts and Design in Jerusalem, Israel.
In 2017, I finished my B.A. in Sociology and Ethnology with the focus on ritual theories in Southern Africa. During my previous studies I spent time abroad in Namibia.
My love for photography began when I got my first analog camera as a teenager. Continuously I've used and admired photography to capture moments and tell stories. I remain focused on ethnological and sociological topics in my work. My personal projects deal with sociological themes, such as the connections between people and the connection of humans with their surroundings and influences; as well as projects questioning our way of looking at art.
publications
2020, Further 02, Fotobus Society.
exhibition & screenings
2021, 'with everything that's going on', Kunstverein Bielefeld, Germany
2020, 'Junction' group exhibition, Maqam En-Nabi Musa, Westbank.
2019, Fotobus Screening at Visa pour l'image in Perpignan, France.
2019, 'Beograd' group exhibition at maschinerie ev., Dortmund, Germany.
2018, 'Beograd' group exhibition, Bielefeld, Germany.